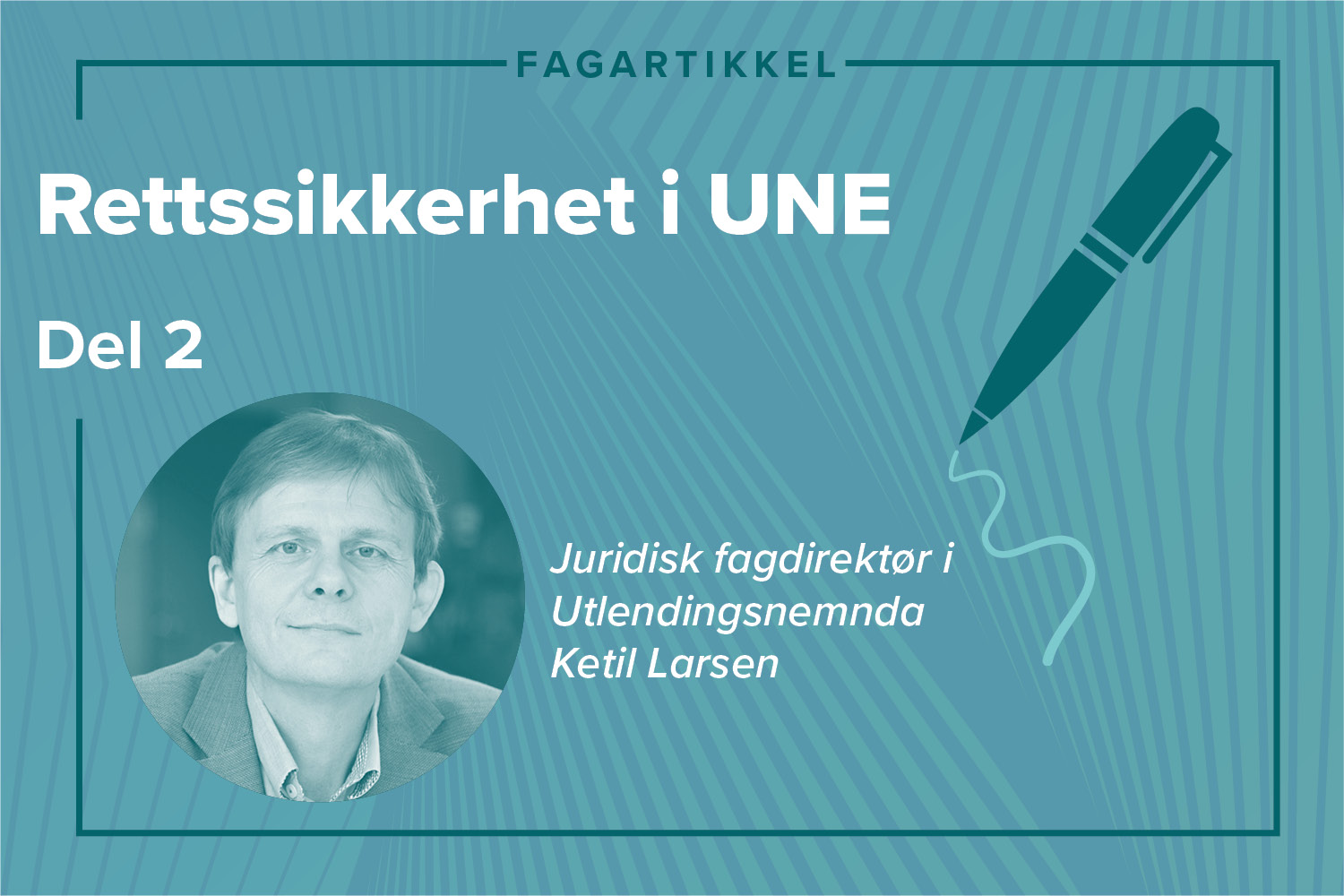 By Ketil Larsen
Since its establishment in 2001, UNE has made almost 120,000 asylum decisions. In a small number of cases each year, an appellant or his or her spokesperson informs us that things have gone wrong after the return. What does UNE do in such cases and why?
This is the second of two articles about due process in asylum cases and the Immigration Appeals Board's (UNE) role as an appeal body. This article is about claims concerning return to persecution.
See Part 1 on due process in general in asylum cases.
1. What UNE is allowed to communicate
When UNE is asked to comment on allegations of procedural errors or claims that a former asylum seeker has been persecuted upon returning to his or her country of origin, there are normally restrictions as to what we can say. This may be due to the following:
UNE has a statutory duty of confidentiality regarding all sensitive personal information, unless the party consents to disclose this information.
UNE will evaluate what consequences disclosing the information will have for the foreign national's personal safety.
It may be that we are not allowed to say anything about an ongoing investigation conducted through Norway's foreign service, or we may we need to wait until the investigation is completed.
If the only thing we have is an undocumented claim of an error or of a person having been returned to persecution, we may need to obtain information before we can say whether or not the claims are unfounded or how we intend to proceed.
UNE's boards and board chairs are independent decision-makers in the same way as court judges, cf. the article on due process – Part 1. This means that neither UNE's director general nor other members of staff can review a decision made by a board or board chair. Thus, UNE cannot automatically 'acknowledge' that the decision is flawed before the case has been reconsidered and a new decision has been made, or a judgment has been pronounced declaring the decision invalid. As part of our internal quality assurance, there may nonetheless be experts at UNE who identify needs for improvement in the processing of one or more cases. Usually, this will be regarded as internal guidance to the decision-makers or to ensure the quality of the case processing in general, and will not normally be public information.
As I point out below in sections 3 to 5, there may be different reasons for possible security incidents following a person's return to his or her country of origin. We can, at least in an initial phase, have difficulties concluding whether UNE has made an error or what consequences a possible error has in the bigger picture.
2. The party and UNE both have a duty to elucidate the case
Pursuant to Section 17 of the Public Administration Act, the administrative body has a duty to clarify the case as thoroughly as possible. In reality, the requirement applies equally to UNE and the asylum seeker. A person applying for a permit, in this case an asylum seeker, is obliged to disclose every fact that may have a bearing on the application and to present all documentation available to him or her.
To be entitled to protection (asylum), the asylum seeker must have a need for protection for a certain period of time ahead. If the grounds for asylum are substantiated with reasonable probability (which is normally the standard of proof in asylum cases), UNE must make an assessment of the risk of persecution if the asylum seeker returns to his or her country of origin. Making assessments about what can happen in the future will often entail a degree of uncertainty. UNE must consider both the facts and the possibility of future persecution based on the information available to us at the time the decision is made.
When considering a decision in arrears, the question will be whether the case processing was satisfactory and the decision appropriate at the time the decision was made. If UNE did not have all relevant information at the time the decision was made, the reason can be that UNE had not elucidated the case sufficiently, that the asylum seeker withheld information or that information has become known that was not available to either UNE or the applicant at the time of the decision (e.g. a secret wanted notice in the applicant's country of origin). UNE's responsibility is to prepare the case sufficiently well and to follow the rules of procedure set out in the Public Administration Act and other provisions of law, cf. the article on due process – Part 1.
3. Errors may occur
'Error' can mean a lot of things. A decision can be poorly justified and thereby be flawed even though the conclusion is correct. If the justification is insufficient or the case insufficiently prepared, these are specific errors that can be corrected by processing the case again and making a new decision. Such errors can normally be avoided by having sound procedures and expert support during the processing of the case, and by learning from the judgments we receive.
A possible source of error is that people can assess information in different ways. Assessments of credibility or a future risk of persecution are made by people and will never be a matter of exact science. Asylum cases may entail a number of uncertainty factors. Often, there is lack of evidence of who the asylum seeker is and his or her grounds for asylum. The documents presented are not necessarily authentic, and oral depositions are not always easy to evaluate. It may be demanding to carry out investigations in the applicant's country of origin. Sometimes, the country information may also be of uncertain quality. We may be dealing with contradictory or unclear evidence. UNE must nonetheless make decisions also in these cases, and the applicant should not have to wait for many months for an answer. The solution can be to give the applicant the benefit of the doubt, but even with our wide margin of doubt, we cannot guarantee that UNE will never make mistakes.
When the decision-makers at UNE make individual assessments of the evidence and risks in each case, similar cases may have different outcomes. This may be due to the fact that each case is considered individually, in which case the outcome will not be a breach of the principle of equal treatment.
However, our aim is that it shall not matter who is involved in the processing of a case. At UNE, information about the country and about regulations and practices is extensively shared. We also have internal guidelines and arenas for exchange. At UNE, all cases are prepared by teams of case officers who all work on the same types of cases, a practice that fosters equal treatment of similar cases.
The human factor may nonetheless play a role – be it the asylum seeker making a statement, the interpreter translating, the lawyer assisting, the case officer preparing the case or the decision-makers making the decision. It is hardly possible to create a case processing system that ensures that no errors are made or where the decision-makers always come to the same conclusion in questions of doubt.
Errors can happen, no matter how thorough the case processing may be. We take all claims that a person has been returned to persecution seriously. We will often conduct an internal review of the case processing and carry out investigations through Norway's foreign service or ask for more information from the person who reported the information.
UNE goes through these cases with the aim of identifying errors or points for improvement. We seek to learn so as to eliminate possible weaknesses in our future case processing. UNE also has the possibility of making a new decision that enables the foreign national to return and settle in Norway. That is what happened in the Rwanda case described below.
4. Reports of specific cases of return to persecution
We have not compiled statistics on the number of cases where we have received reports of security incidents after a person has been returned to his or her country of origin. My impression is we receive less than ten such cases on average every year, or even fewer. By comparison, UNE has since its inception in 2001 made more than 100,000 rejection decisions. We cannot say for certain how many have returned to their country of origin, but probably several tens of thousands.
In a few isolated cases, UNE has concluded that the probability of persecution or other serious security incidents has been substantiated, or that it has not been possible to draw a conclusion on the basis of the available information. So far, UNE has concluded in one single case that its decision was incorrect, and that the person should have been granted protection in Norway.
That case concerned the return of a person to Rwanda, where neither UDI, UNE's board hearing nor Oslo District Court had found in favour of the applicant. After being returned to Rwanda, the person was arrested and convicted of dissident activity. Our internal review and subsequent reversal of the decision show that UNE should have granted the person protection. The outcome turned out wrong due to specific circumstances that led UNE to underestimate the applicant's need for protection. These circumstances can explain, but not excuse, that we made an incorrect decision.
During the period from 2001 and up until today, UNE is only aware of a few more examples – probably less than ten in total – where we agree that persecution or other serious security incidents have or may have taken place after the person was returned to his or her country of origin. Some of these cases have been the subject of legal actions against UNE's decision, cf. below.
In recent years, claims of persecution have been put forward in some cases that have made headlines in the media:
In one case, a Kurdish woman was imprisoned and later convicted of PKK activity after being expelled to Turkey. In this case, the investigations carried out by Norwegian authorities during the consideration of the asylum case did not reveal that she was wanted by the police in Turkey. When she was imprisoned in Turkey, UNE reviewed her case. UNE set aside the previous decision and returned the case to the UDI for a new case processing. The UDI thereafter granted the applicant a residence permit. After she was expelled, her case was also considered by Oslo District Court. It is clear from the judgment that UNE considered her explanation to be lacking in detail, that it was not very specific, contained incorrect information, contained information contrary to known country information, that it was gradually developed and expanded on and that it appeared to be adapted to the decision. Oslo District Court held, however, that UNE had made an incorrect assessment of the evidence, and found in favour of the applicant, concluding that the Norwegian State, by returning her to Turkey, was guilty of breach of obligations under the European Convention on Human Rights.
In another case, an Iranian woman applied for protection (asylum) in 2009. She argued that an Iranian court had sentenced her to a fine and flogging as punishment for consumption of alcohol and indecent behaviour. The Norwegian immigration authorities investigated her case in Iran. Their conclusion at the time was that the sentence she presented was probably not authentic. Her application was rejected, first by the UDI, then by UNE in 2012. After having been deported to Iran in 2017, she claimed that the Iranian authorities had executed the flogging sentence, presenting photos to substantiate her claim. The Norwegian authorities then granted her an entry permit to Norway, where she once again submitted an application for protection (asylum). UNE upheld its rejection of the application for asylum, while the UDI granted her a residence permit on other grounds. She brought UNE's decisions from both 2012 and 2018 to court, arguing that the Norwegian State was in breach if its human rights obligations when she was returned to Iran. Oslo District Court found in favour of UNE on all counts.

She appealed the decision to the Court of Appeal, which found that the decision made in 2018 was valid, whereas the decision in 2012 was invalid and that the Norwegian State had violated the European Convention on Human Rights when she was returned to Iran in 2017. In the case before the Court of Appeal, the court found that it was highly probable that the flogging sentence was real. In UNE's opinion, the judgment will not have any implications beyond this particular case and has thus taken note of the judgment without appealing it to the Supreme Court.
A third case concerned an Iranian man who also claimed he was flogged upon returning to Iran. Here, UNE saw no connection between his asylum application in Norway and the abuse he claims he suffered. This was our conclusion after a thorough review of all new and old information in the case.
The fourth case concerned a former asylum seeker who was imprisoned in the Democratic Republic of the Congo. Oslo District Court ruled in his favour in 2019 and found that UNE's decision was invalid. The court concluded that the decision was based on incorrect facts. This case is under review by UNE, which has not yet come to a conclusion or made a new decision.
In the handful of cases where a former asylum seeker has been the victim of a security incident after returning to his or her country of origin, we have noted a few points for learning or improvement. These points also come from cases where we have not ourselves concluded that our decision was incorrect. They include the importance of:
Individual assessments and justifications of new claims and evidence that are presented during the process, even if they contradict the applicant's previous statement.
Making the necessary reservations in reports of investigations concerning a case in the country of origin when the information is uncertain.
Emphasising, in comments to the case, both what substantiates the applicant's grounds for asylum and the arguments against them, and presenting the case in an informative way to the board members.
Being conscious that UNE itself should assume the role of 'lawyer' for the applicant if he or she wishes to represent him/herself without the assistance of a lawyer or other authorised representative.
These points relate to the cases mentioned above. There is no reason to believe that they are an indication of general systemic failure.
5. When UNE is unable to confirm that the applicant will be returned to persecution or that UNE has made an error
There may be a number of reasons why UNE, in some cases, has found that we either cannot conclude that any alleged security incidents have taken place after the applicant's return or that the decision was flawed even if a security incident may have taken place.
Some cases relate to circumstances that UNE could hardly be expected to anticipate at the time the decision was made. In asylum cases, security incidents may occur after the person was returned even if the case processing respected the principle of due process and the decision was correct at the time it was made. When things nonetheless go wrong, this may be due to external factors that the UDI and UNE were unable to anticipate. One example would be an unpredicted change of regime or the outbreak of war in the asylum seeker's country of origin.
In other cases, the applicant may for example have withheld information in the asylum application, or challenged the authorities of his or her country after returning there, without UNE having had reason to believe that this would happen. The applicant may also have been the victim of an incident independent of the asylum application, such as an accident, a crime or an act of terror. Some foreign nationals may also experience humanitarian challenges upon their return, without these problems amounting to persecution.
Sometimes, 'something' happens upon the applicant's return that cannot be characterised as persecution. We have seen several examples of persons being withheld for a couple of days at immigration control and then released without any further problems. It is not uncommon for countries to practise strict immigration control of persons returning with no identity documents. Incidents like these do not, in principle, constitute persecution under the Refugee Convention.
Furthermore, there is a difference between error and disagreement. Claims concerning return to persecution or that UNE has made an error may arise from disagreement with the decision. It does not necessarily mean that the person has been the victim of abuse.
There is also a difference between a claim and documentation. In several cases where UNE has received reports claiming that someone has been returned to persecution, this information has turned out to be of no value or impossible to confirm or substantiate. In some cases, there is no substantiation at all to support such claims.